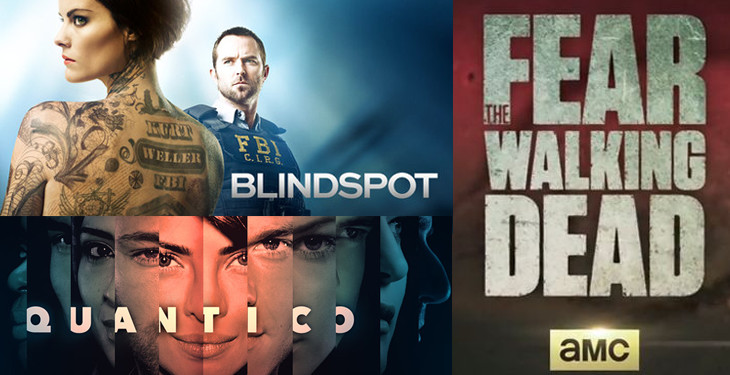 It's hard to believe that summer is over and fall is finally upon us. I don't know about you, but my favorite season is fall – full of pumpkins, falling leaves, crisp air, and plenty of new TV shows. The new shows might just be my favorite part. Well, after clamoring for months watching trailers and looking up information, it's finally here. This year all of the networks are putting forth a number of quality shows that look original and highly entertaining.
Here are a couple of new shows that are worth checking out.
Blindspot
Where to find it streaming: NBC.com, Hulu.com
Jaimie Alexander (Thor) stars as Jane Doe, a beautiful tattoo-covered woman discovered naked in a bag in Times Square. Lacking any memory, Jane has no idea who she is or how she got there. It does not take long to realize that each tattoo on Jane's body has to do with a crime that needs to be solved. The first tattoo discovery, leads her to FBI Agent Kurt Weller, played by Sullivan Stapleton (Strike Back). Jane and Weller work together to unlock the tattoos with the hope of learning more about who Jane is and what other mysteries the rest of her tattoos can reveal.
Blindspot is a single camera, action-drama set in New York City. Martin Gero, known for his work on Stargate: Atlantis, is the creator and showrunner of Blindspot. Along with Alexander and Stapleton, the show also stars Rob Brown, Audrey Esparza, and Ashley Johnson. Blindspot premiered on NBC on September 21, 2015. You can view episodes from the beginning on NBC.com and new episodes on Hulu.com.
Quantico
Where to find it streaming: ABC.com, Hulu.com
When ABC announced the addition of Quantico to their fall lineup they described the show, which is produced by the Mark Gordon Company (Criminal Minds), as a cross between Grey's Anatomy and Homeland. Told in flashbacks and flash forwards, Quantico follows a group of FBI recruits and explains why they each decided to join the FBI. The flashbacks offer a glimpse into who each recruit was before joining the academy, but in the flash forward, it's learned that one of the recruits is suspected of being a mastermind in the biggest homegrown terrorist attack in New York, since 9/11.
Quantico has a wonderfully diverse cast including Priyanka Chopra, Josh Hopkins (The Perfect Storm), Aunjanue Ellis (The Help), Yasmine Al Masri (Crossbones), and Jake McLaughlin (Safe House). Quantico premiered on Sunday, September 27. You can watch episodes weekly on either ABC.com or Hulu.com.
Fear The Walking Dead
Where to find it streaming: AMC.com
Fear The Walking Dead is a prequel to the critically acclaimed zombie apocalypse show of (almost) the same name, The Walking Dead. Created by Robert Kirkman and Dave Erickson, Fear The Walking Dead takes place in Los Angeles during the beginning of the zombie outbreak. In comparison to The Walking Dead, Fear takes place around the time of Rick Grimes' coma.
Fear The Walking Dead follows a somewhat dysfunctional family through the horrific beginnings of the apocalypse. Single-mom, Madison, and her boyfriend, Travis, along with her kids, Alicia and Nick, struggle to remain a family unit despite all that goes on around them. As things get worse each day, the family of four has to learn to adapt to the changing times or risk the chance of losing one another to the collapse of the world they know. You can watch full episodes of Fear The Walking Dead on AMC.com.
Recommendations By:
Kristy S.