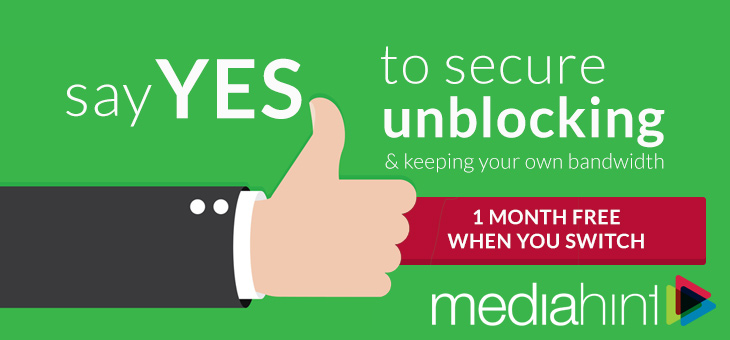 At MediaHint, we're passionate about open, unblocked internet regardless of your location. We're also uncompromising on security. We've always felt that our members deserve the highest level of service – a service that liberates AND protects them.
In light of recent news involving Hola Better Internet's practice of selling its user's bandwidth and multiple vulnerabilities as a peer-to-peer VPN, we're encouraging all users to learn more about the differences in unblocking services and choose MediaHint as the secure choice.
We're offering a free 1-Month subscription to any new user switching from Hola. When registering for a subscription at https://mediahint.com, use promo code HOLA. This offer will be available until June 30, 2015.
VPNs like Hola may tout security, but using them can create vulnerabilities that you may be unaware of. These vulnerabilities can be exploited by spammers and hackers, even using your own bandwidth or devices against others. MediaHint's method of selective proxying cannot be exploited by other users or companies for nefarious purposes.
We have never and we will never sell our members data or bandwidth to anyone. We don't monitor or store any information about the sites you visit. Our goal is for all MediaHint members to enjoy the content you want, regardless of your location without worrying about compromised privacy or the risks involved in many of the other services.
So you might say, "but you charge for your service and I'd rather have this for free." We get it. Trust us, we like free too. MediaHint charges a small monthly fee so that we can maintain servers and take care of our developers & support staff who work hard to unblock channels and build new features for you to use. This way we don't have sell your data & bandwidth or show you a bunch of ads like a lot of "free" options.
Take the reins! Choose MediaHint to unblock the movies & music that you want and feel confident knowing you'll never be compromised using MediaHint.
Join today at https://mediahint.com and use promo code HOLA to receive your first month free.