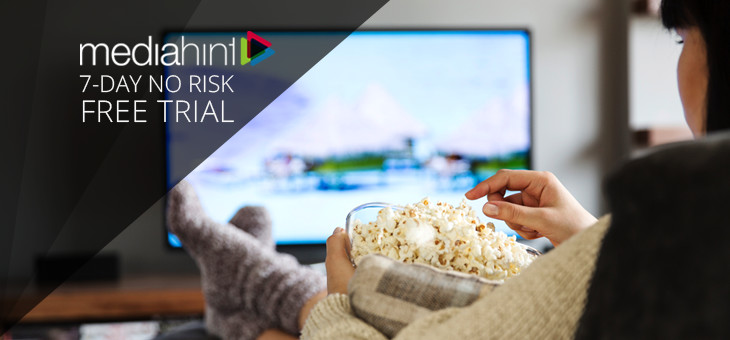 One of the most exciting parts of signing up for the free 7-day trial of MediaHint is deciding exactly how to spend those seven days. With so many channels, it can be hard to figure out what to try first. The good news is we have you covered! We've created a seven-day binge plan of some of the best networks and the shows that air on them. Once you sign up, just start with day one and enjoy! By the end of the week, we're sure that you'll be ready to join a subscription plan and keep the unblocked entertainment going!
Day 1: BBC iPlayer
Our first day in your free 7 day trial starts in the United Kingdom. The BBC is the UK's answer to some of the most important television currently on the air. Chances are if it's one of the bigger shows on the network, this is where you will find it. Responsible for such juggernauts as Doctor Who and EastEnders, BBC iPlayer has plenty of shows to choose from no matter what you're in the mood to watch.
TV Suggestions: The Hunt, EastEnders, Doctor Who, Arne Dahl
Day 2: iView ABC
On day 2, we move on to Australian television and there is no better service for that than iView on ABC. You can choose from fictional and documentary-style shows from educational offerings to reality television. iView offers a wide range of selections including the incredibly fun The Adventures of Figaro Pho, an animated comedy about the mischievous Figaro, the one person on Earth that just happens to have every phobia imaginable.
TV Suggestions: Please Like Me, Red Dwarf, The Beautiful Lie, Fleming: The Man Who Would Be Bond
Day 3: SBS On Demand
Day three keeps us in Australia so that we can view some of the best movies and television shows from around the world. SBS On Demand is unique because like Netflix you are able to watch both movies and television shows. Even better, there is a huge selection of both from shows around the globe. Your biggest problem with SBS On Demand is likely going to be how to choose what to watch and only spending one day on those shows! This can quickly become one addicting network.
Movie/TV Suggestions: Matrioshki, Maison Close, Holland's Hope, Trust Me, Next Door
Day 4: DramaFever
On day four, travel with us to DramaFever, which is your answer for a selection of Asian and Korean dramas, Latin American Telenovelas, and movies from around the globe. DramaFever has a wide range of movies spanning from romance to horror, an even wider selection of television shows including some K-Pop reality options, and if you have any kids in the home, there are some options for them, too. No one is left out and everyone will be sure to be entertained!
Movie/TV Suggestions: SpellBound, Apartment, Pinocchio, The Return of Superman, Dibo
Day 5: PBS
PBS stands for Public Broadcasting System. They are the non-profit giants behind shows like Sesame Street and Mister Roger's Neighborhood. At one point the shows were largely educational and many of them still are, though somewhere along the way they added some amazing drama options with the Masterpiece line, which has become more popular in recent years thanks to shows like Downton Abbey and Indian Summers.
Movie/TV Suggestions: The Great British Baking Show, The Guilty, Secrets of the Dead
Day 6: Netflix
On the sixth day check out all Netflix has to offer. If you haven't heard the news yet, MediaHint will soon be launching new features of our service to give you access to additional Netflix regions so stay tuned for new options in addition to currently supported U.S. Netflix. Netflix offers a plethora of ever-updating originals such as House of Cards, Orange is the New Black, and Narcos.
Movie/TV Suggestions: Back in Time, Beasts of No Nation, Marco Polo, Chef
Day 7: Network TV (ABC, NBC, CW, Fox)
On the final day of your MediaHint trial, take some time to enjoy the best shows that U.S. network television has to offer. There are so many options in these four networks you're guaranteed to find your favorite shows and some new shows you will love, too.
TV Suggestions: ABC (The Goldbergs, How to Get Away with Murder), NBC (Grimm, Blindspot), CW (The Flash, The Originals), and Fox (Empire, Gotham)
This is just a small sample of the options you have when you sign up for your 7 day FREE MediaHint trial. Over the course of a week you can immerse yourself in movies and television from around the world. You'll have your eyes opened to a number of new shows to binge-watch whenever you have a bit of time on your hands.
You'll likely need to unblock one or all of the shows, so we suggest using MediaHint's free-trial to get through them!
*Additional memberships may be required for some available MediaHint supported channels.